---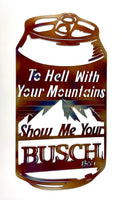 CNC Plasma cut metal wall art:  Fun Bush Beer can with provocative innuendo.
Cut from 14 gauge mild steel, heat treated to color, with powder coat finish. Measures 10.5x20 inches (width by height.
Color may vary due to heat treating process.
Great decoration for living room, den, garage, bedroom, or any space. Makes for a unique gift and conversation piece.